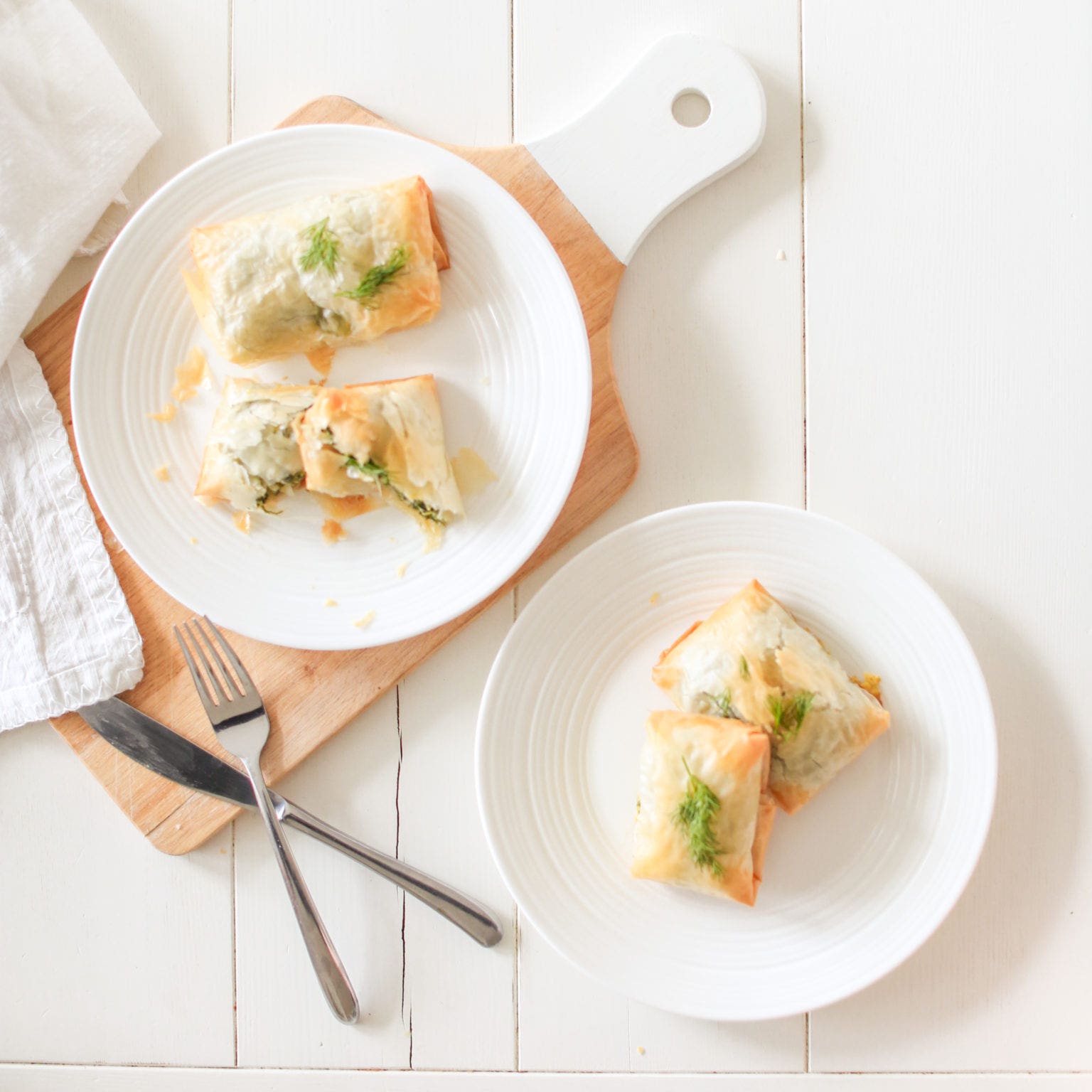 Spanakopita is a Greek spinach pie and makes for a delicious lunch or appetizer. These crispy little spinach pies are baked to perfection and topped with a dollop of tzatziki. Yes. Please. This version is rustic version that is and less fussy thanks to a simplified folding technique, but absolutely packed with flavour. You can make extra and freeze prior to baking if desired!
Start your free trial to view this recipe.
You'll get access to our full library of dietitian made meals.
Start Free Trial
INGREDIENTS
.5

- 454 g package(s) phyllo pastry, thawed

.25

Cup

butter , or olive oil, melted

For the Filling:

.25

yellow onion(s), finely diced

1

garlic clove(s), crushed

.5

- 300 g package(s) frozen chopped spinach, thawed & very well drained

.25

Cup

dill, chopped, lightly packed

.25

Cup

parsley, chopped, lightly packed

salt & pepper, to taste

Tzatziki (or make your own), to serve

View
INSTRUCTIONS
1.
Thaw the phyllo according to package directions.
2.
Meanwhile prepare the filling. Heat a medium pan on medium heat and add the oil. Add the onions and sauté until soft and transparent, 3 to 5 minutes. Add the crushed garlic and sauté for another minute. Transfer to a large bowl.
3.
Add the spinach (making sure you have squeezed out all of the liquid using a tea towel or paper towel), dill, parsley, feta cheese, and eggs and season with salt and pepper. Mix together until well combined.
4.
Preheat the oven to 350 F and line a large baking sheet with parchment (skip preheating the oven if you are freezing the spanakopita for future use).
5.
Taking 1 sheet of phyllo at a time (cover the phyllo that isn't being used with a clean slightly damp towel to prevent it from drying out), lay it out flat on a clean surface and brush lightly with the melted butter or olive oil using a pastry brush. Fold the sheet in half lengthwise. Place 2-3 tablespoons of filling in the middle of the lower 1/4 of the pastry and roll up by folding it forward until it is folded half way up the sheet. Fold in the sides (like a burrito) and continue to fold the parcel forward until all of the phyllo has been rolled up. Place seam side down on the prepared baking sheet, and repeat until all of the filling is used up. You can freeze the spanakopitas at this stage if desired (freeze on baking sheet and transfer to an airtight container).
6.
Bake for around 20 minutes, until golden brown and serve with tzatziki if desired.
Nutrition Information
Protein
12.8g
per serving