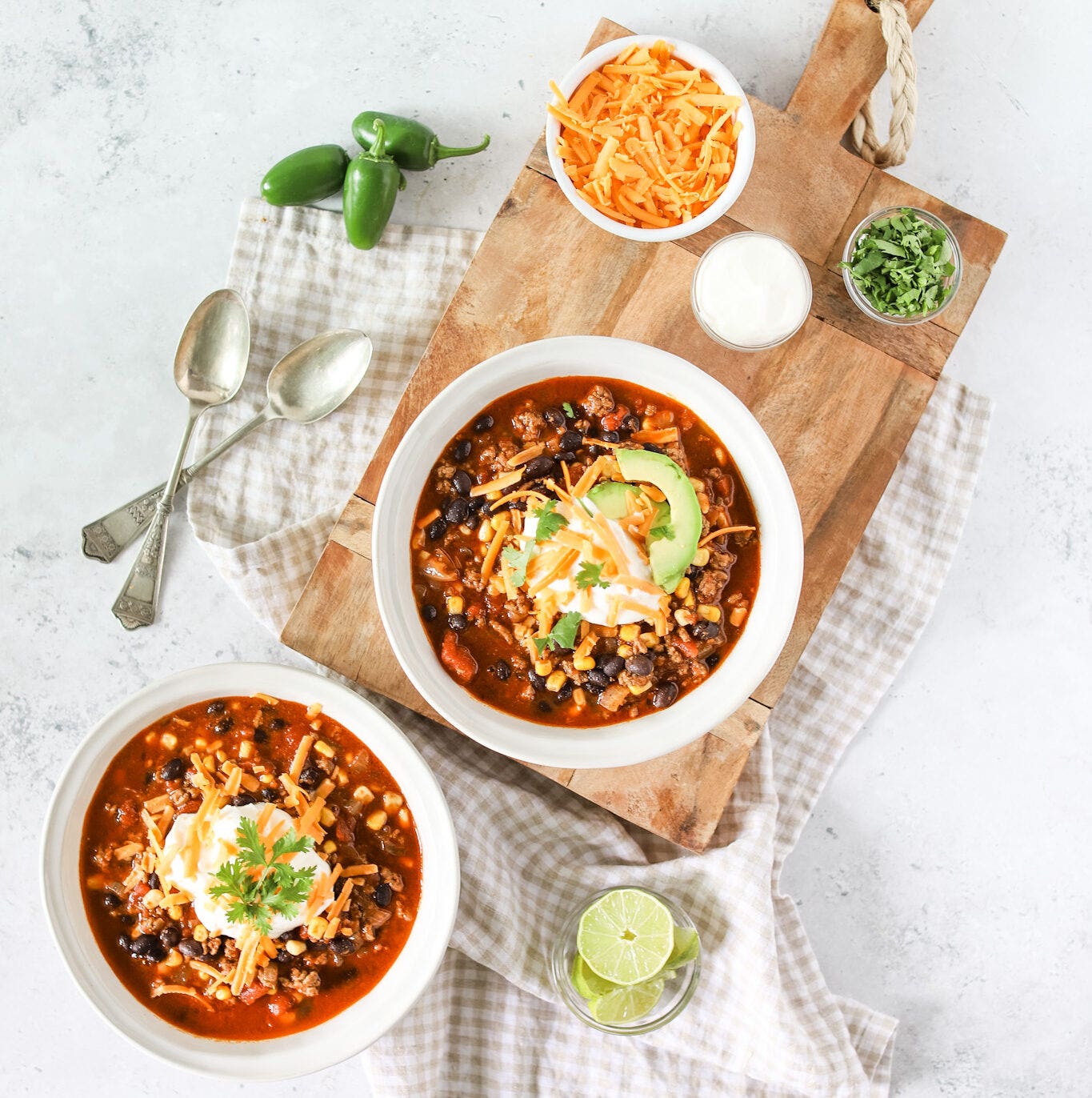 This Chili (or Chilli) is smoky and packed with flavours. It's delicious topped with full fat Greek Yogurt and
best served with a side of tortilla chips.
Start your free trial to view this recipe.
You'll get access to our full library of dietitian made meals.
Start Free Trial
INGREDIENTS
0.5

large sweet onion(s), diced

2

garlic clove(s), minced

1

lbs

ground (turkey, chicken, or beef)

0.5

Cup

red wine or stock

2

Tablespoon

chilli powder

1

Teaspoon

chipotle chilli powder

1

- 796 mL can(s) diced tomatoes

1

whole smoked chipotle chilli(s) in adobo sauce

1

- 540 mL can(s) black beans, drained

Salt & pepper, to taste

0.66

Cup

grated cheddar cheese

0.5

Cup

cilantro, chopped

tortilla chips (optional)

0.66

Cup

sour cream or plain full-fat Greek yogurt
Plant-Based Option:
Use veggie ground or double the beans and vegetables, and use plant-based yogurt.
INSTRUCTIONS
1.
In a heavy bottomed large pot, heat the olive oil over medium heat. Add the onion and stir for 2 minutes. Add the garlic and stir until the onion is transparent (don't brown the garlic).
2.
Add your ground meat (in batches if your pot has a narrow bottom) and cook until browned. Deglaze the pot with the red wine or stock.
3.
Add the spices, tomatoes, sugar and the chipotle pepper. Stir and turn the heat to low to simmer for 1-2 hours. Season with salt and pepper to taste.
4.
Add the corn and the black beans and cook until they are heated through. Remove the chipotle pepper.
5.
Place into individual bowls and top with the diced avocado, a lime quarter, cilantro, grated cheddar and a dollop of sour cream or Greek yogurt. Serve with tortilla chips if you wish.
Nutrition Information
Sodium
801.5mg
per serving