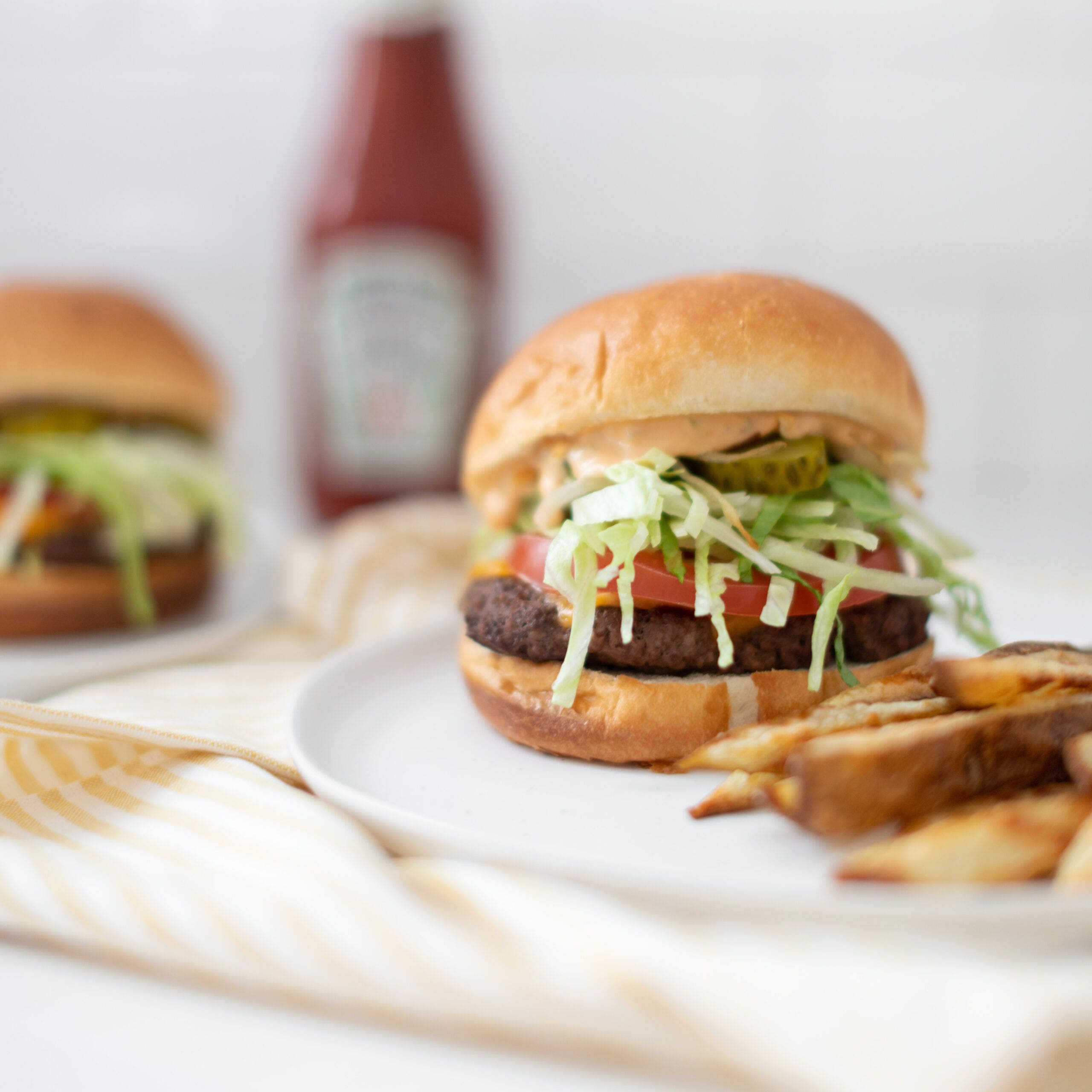 dinner
Smash Burgers with Crispy Oven Fries
Have you ever made Smash Burgers before? If not, you are in for a treat! These burgers come together so quickly for an easy weeknight dinner. You can skip caramelizing the onions to speed this recipe up but we find they add so much flavor to this simple dinner. Soak your cut potatoes in water for 1 hour or overnight to really take your oven fries to the next level of crispiness, should you have the time!
Start your free trial to view this recipe.
You'll get access to our full library of dietitian made meals.
Start Free Trial
INGREDIENTS
Oven Fries:

1

russet potato(es), cut into 1/4" fries

For the Burgers:

0.25

yellow onion(s), thinly sliced

0.5

lbs

ground (beef, chicken, turkey or veggie ground)

0.25

head(s) iceberg lettuce, shredded

salt & pepper, to taste

Burger Sauce:
Lower Carb Option
Lettuce wrap your burger and serve with a side salad.
Plant-Based Option
Substitute a plant-based veggie burger.
INSTRUCTIONS
1.
Preheat the oven to 425 F and line a baking sheet with parchment paper.
2.
Place the potatoes in a large pot with water on medium high heat and bring to a boil. Once the water starts boiling, cook the potatoes for 3-5 minutes.
3.
Using tongs, remove the potatoes from the water and place on a clean dish towel. Pat them dry with another towel to dry completely. Place a layer of potatoes evenly on the prepared baking sheet, toss with the oil and a sprinkle of salt. Bake for 20-25 minutes until golden.
4.
Add the onions and oil to a small saucepan over medium low heat. Cook low and slow to caramelize the onions.
5.
Form the ground into two round balls. Loosely wrap plastic wrap around the base of a small pot. Heat a large frying pan over medium high heat. When the pan is hot, add the ground, spaced as far apart as possible. Smash the burgers down with the bottom of the pot. Season with salt and pepper. Cook 3-4 minutes then flip. Cook until cooked through, 2-3 more minutes. Top with cheese and cover until the cheese is melted and burgers are cooked to your liking.
6.
Toast your buns. Mix together the burger sauce ingredients. Assemble your burgers with the burger sauce, burger patty, lettuce, tomato, pickles, and caramelized onions. Serve with the oven fries.
Nutrition Information
Sodium
633.8mg
per serving