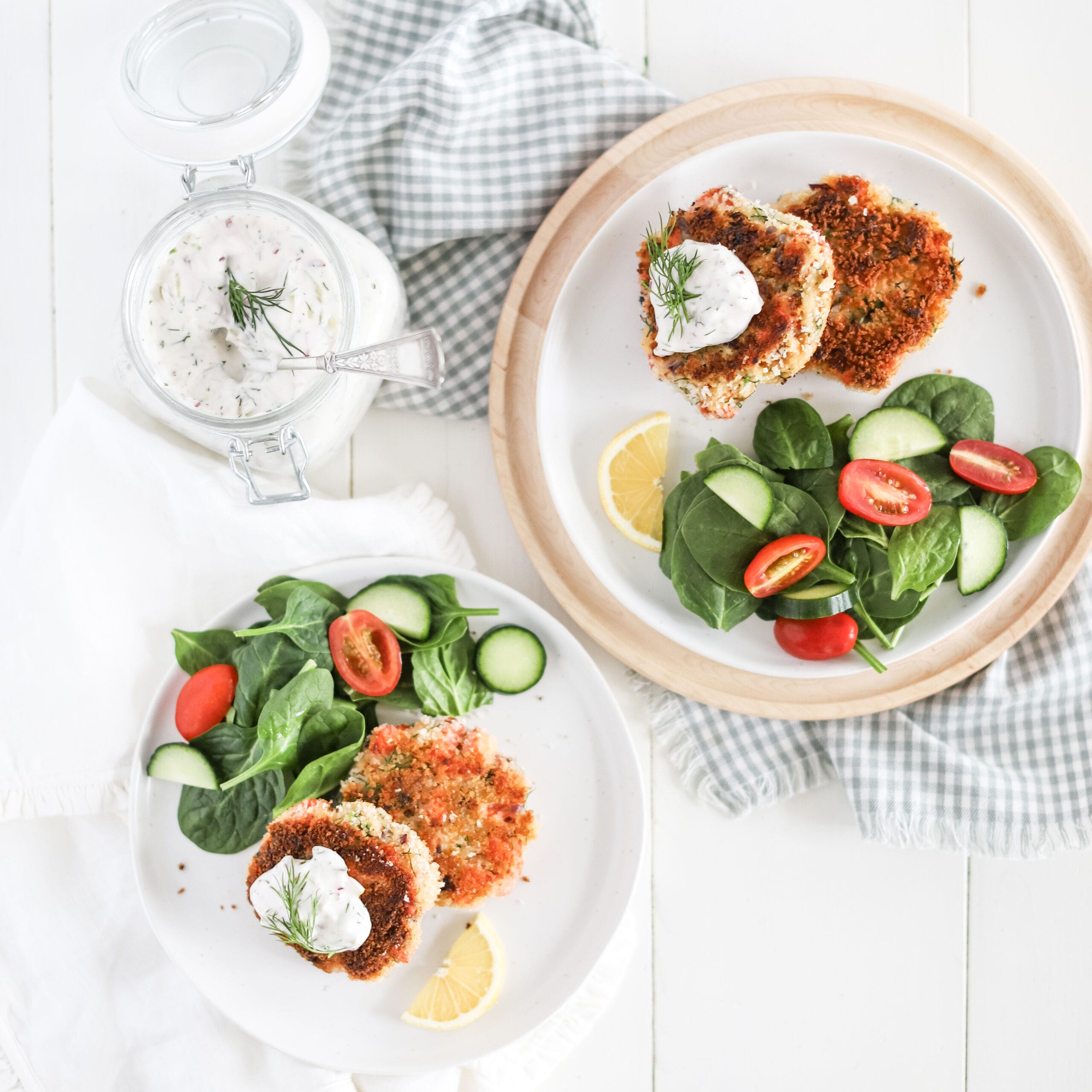 These are a favourite in our house and a recipe we make time and time again. We recommend mixing together the salmon cake mixture in advance, refrigerating, and then forming and cooking them when it's time for dinner. Feel free to prep your tartar sauce ahead of time if desired.
Start your free trial to view this recipe.
You'll get access to our full library of dietitian made meals.
Start Free Trial
INGREDIENTS
For the Salmon Cakes:

2

salmon fillet(s) (approx. 170 g each), 1/4" diced

1

green onion(s), finely diced

0.5

Teaspoon

Dijon mustard

0.125

red onion(s), finely diced

0.25

Cup

dill, finely chopped, plus extra for garnish

0.5

Teaspoon

salt, divided

0.5

Teaspoon

pepper, divided

For the Tartar Sauce:

1

pickle(s), finely chopped

.125

red onion(s), finely chopped

For the Side Salad:

.5

long English cucumber(s), diced

1

sweet bell pepper(s), diced

Salad dressing (or make your own)
Plant-Based Option
Substitute chopped jackfruit for the salmon, use a vegan mayonnaise, and an egg replacer for the egg (we used the Bob's Red Mill one).
INSTRUCTIONS
1.
In a large bowl, combine the salmon, green onions, mayonnaise, mustard, red onion, dill, 1/4 teaspoon salt, 1/4 teaspoon pepper, and 1/2 cup of panko and mix thoroughly. Mix in the eggs until combined. Cover and refrigerate 30-60 minutes or overnight.
2.
Mix together all tartar sauce ingredients and place in an airtight container in the fridge until ready to eat.
3.
Preheat the oven to 400 F and line a baking sheet with parchment paper.
4.
Place the remaining panko in a large shallow dish and mix with the olive oil and remaining salt and pepper. Using a large (size 8) ice cream scoop or measuring cup, measure out approximately 1/2 cup of the mixture and using your hands, form each salmon cake. Carefully place each salmon cake onto the plate of panko, gently pressing some panko on both sides. Using a spatula, carefully lift the salmon cake onto the prepared baking sheet and repeat until all of the salmon mixture is used up.
5.
Bake for 18-20 minutes until golden. Serve immediately with the tartar sauce and fresh dill as a garnish if desired and with the side salad.
Nutrition Information
Protein
47.4g
per serving