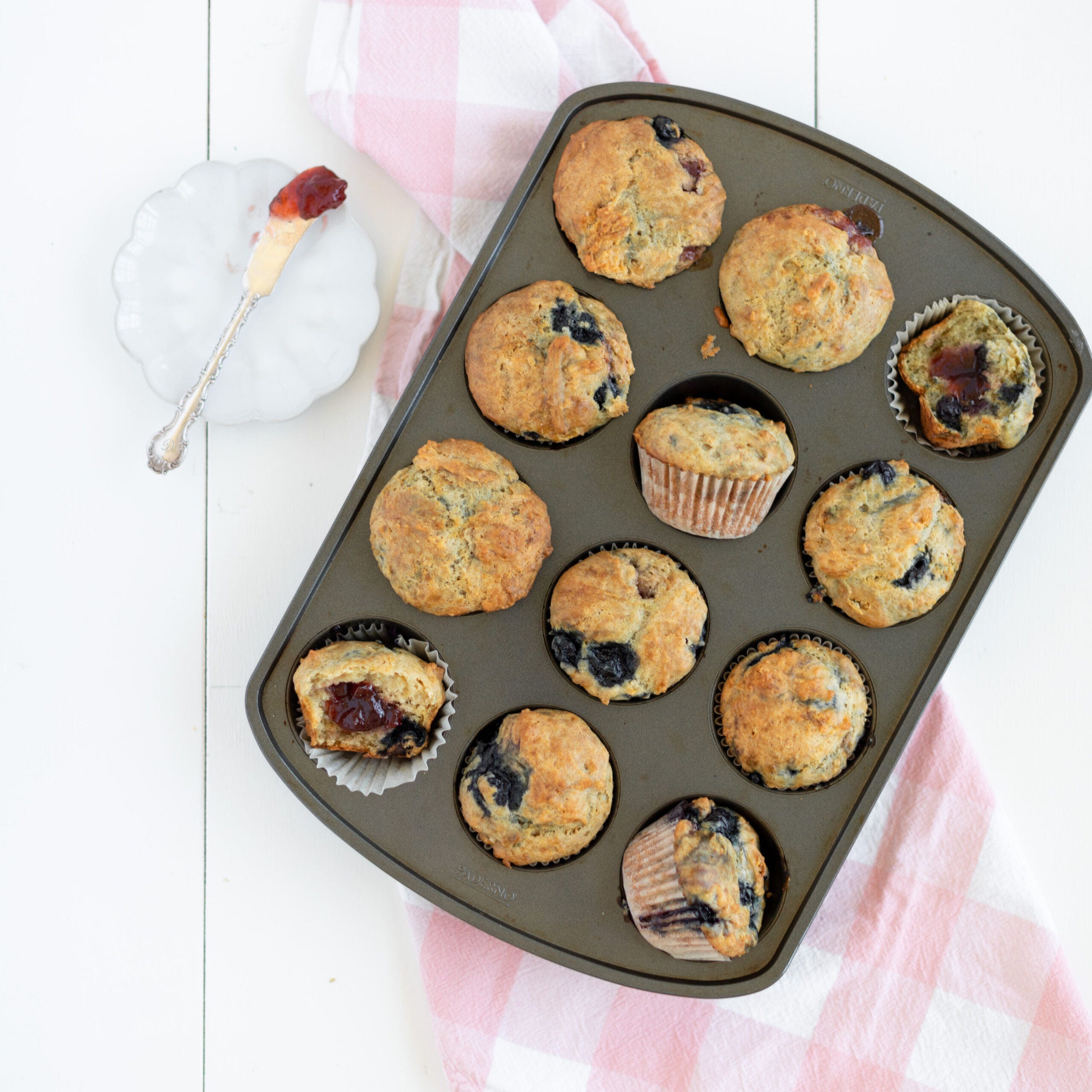 breakfast, snack
PB & J Muffins
Peanut butter & jelly is a classic flavour combination and so we thought, why not turn this amazing combination into a muffin?! These muffins have Greek yogurt and peanut butter for protein, making them a great way to start the day. You can use any type of berry in this recipe, fresh or frozen.
Start your free trial to view this recipe.
You'll get access to our full library of dietitian made meals.
Start Free Trial
INGREDIENTS
.5

Cup

smooth natural peanut butter

1

Cup

frozen blueberries (or berries of choice)
Plant-Based Option
Search 'muffins' in the recipe bank for alternative muffin recipes.
Gluten-Free Option
Use GF 1:1 all-purpose flour.
INSTRUCTIONS
1.
Preheat the oven to 350 F and line 12-16 muffin tins with paper liners.
2.
In a large bowl mix together the flour, baking powder, baking soda, and salt.
3.
In another medium bowl mix together to combine the maple syrup, Greek yogurt, peanut butter, eggs, vanilla, and oil.
4.
Fold the dry ingredients into the wet ingredients until just combined and fold in the blueberries. Using a large ice cream scoop or spoon, portion out the muffin batter into the prepared liners. Spoon about 1 teaspoon of jam into the centre of each muffin, gently pushing into the batter.
5.
Bake for approximately 25-30 minutes or until just golden and a toothpick inserted in the center comes out clean. Remove from the oven to cool on a baking rack. Once cool, place the muffins in a resealable container and store at room temperature for up to 4 days or the freezer for up to 1 month.
Nutrition Information
Sodium
157.6mg
per serving