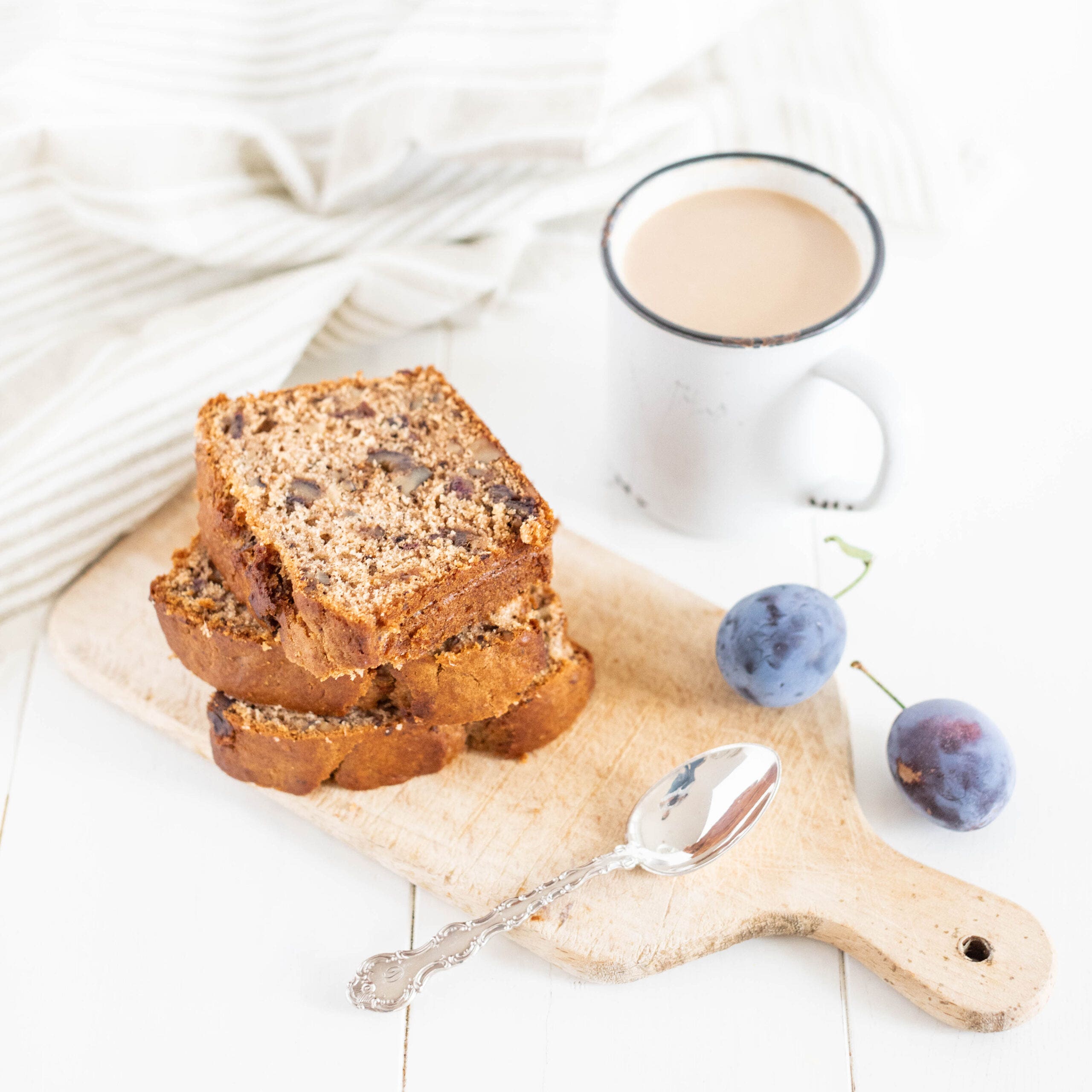 breakfast
Fruit & Nut Loaf
Serve this loaf with a hot cup of coffee or tea for the ultimate comfort breakfast in the winter! If you have the time, warm it up in the morning with a bit of fresh butter. If you like a less sweet loaf, feel free to cut the sugar in half. We enjoy ours served with fresh fruit, like apple or orange slices. For a heartier breakfast serve with a side of Greek yogurt.
Start your free trial to view this recipe.
You'll get access to our full library of dietitian made meals.
Start Free Trial
INGREDIENTS
1.5

Cup

pitted dates, chopped

.5

Teaspoon

nutmeg (optional)

2.5

Teaspoon

baking powder

.75

Cup

chopped nuts (pecans or walnuts)
Nut-Free Option
Omit the nuts, or add pumpkin seeds.
Plant-Based Option
Substitute with a flax egg and use plant-based milk.
Gluten Free Option
Substitute GF 1:1 all-purpose flour.
INSTRUCTIONS
1.
Preheat the oven to 350 F and prepare a loaf pan (we used a 9x5x3" pan) with parchment paper or lightly oil.
2.
In a small bowl, combine the chopped dates and boiling water, stir to combine, and let sit for 10 or more minutes to soak.
3.
In a large bowl, whisk together the whole wheat flour, all-purpose flour, sugar, cinnamon, nutmeg, baking powder, baking soda and salt.
4.
In a separate medium bowl whisk together the egg, milk, oil and vanilla. Add to the dry ingredients along with the date mixture (do not drain) and nuts and stir to combine, until all of the dry ingredients are just mixed in.
5.
Transfer the batter into the prepared loaf pan and bake for 50-60 minutes, until a toothpick inserted in the center comes out clean.
6.
Cool and store at room temperature for up to 5 days or in the freezer for up to 1 month.
Nutrition Information
Sodium
332.5mg
per serving