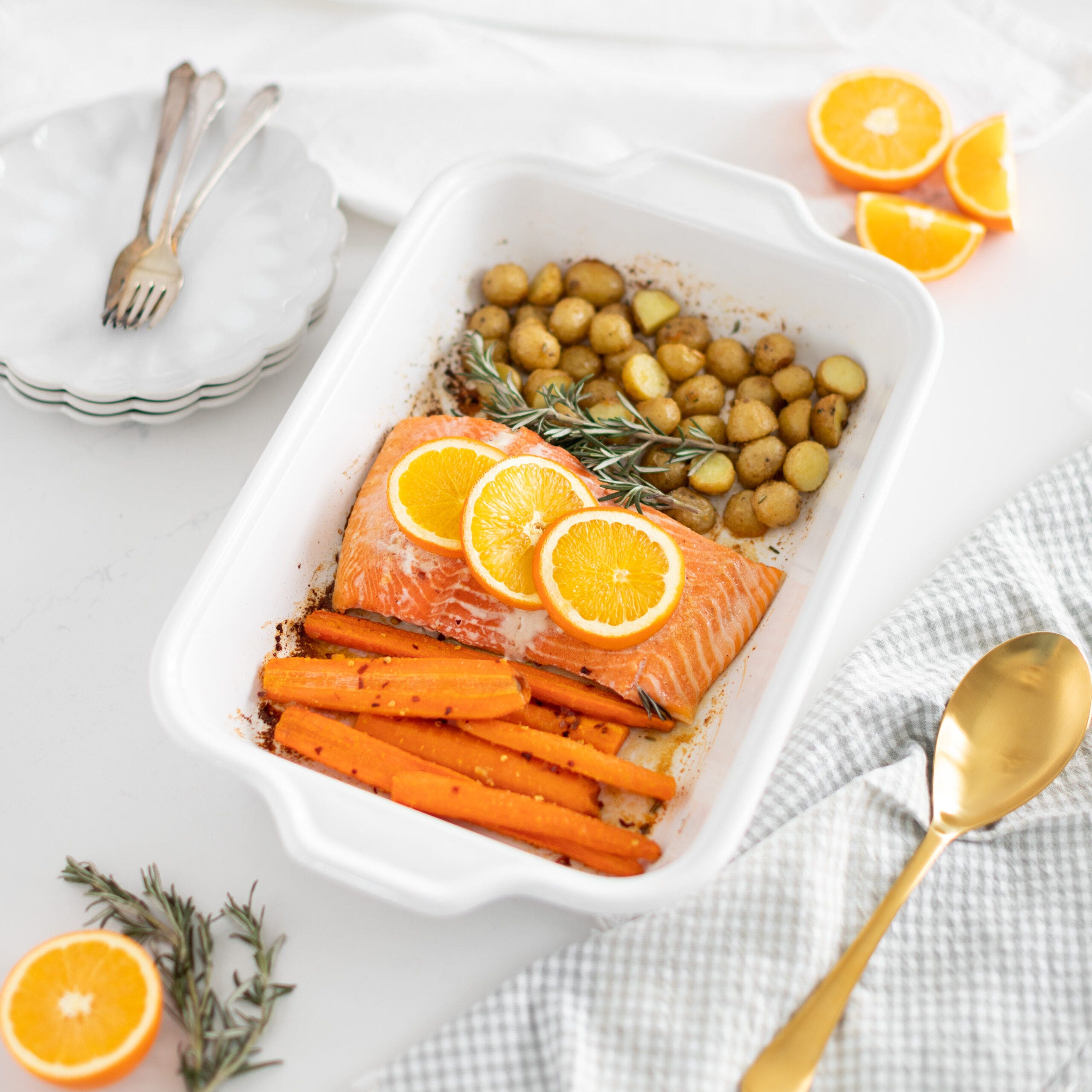 dinner
Citrus Rosemary Salmon
This Citrus Rosemary Salmon is a delicious, nourishing meal that's easy to prep and is packed full of nutrients! The fresh rosemary is beautifully fragrant and is truly a game-changer for this dish.
Start your free trial to view this recipe.
You'll get access to our full library of dietitian made meals.
Start Free Trial
INGREDIENTS
For the Vegetables:

0.5

lbs

baby potato(es), halved

3

carrot(s), peeled & halved lengthways

0.5

Teaspoon

onion powder

0.5

Teaspoon

garlic powder

1

sprig(s) rosemary, roughly chopped

Pinch red chili flakes (optional)

Salt & pepper, to taste

For the Salmon:

2

salmon fillet(s) (approx. 170 g each)

1

garlic clove(s), minced

Salt & pepper, to taste
Plant-based option:
See the recipe bank for plant-based dinner options.
INSTRUCTIONS
1.
Preheat the oven to 350 F.
2.
Add the baby potatoes to one half of the baking dish and the carrots to the other. Season with the garlic powder, onion powder, oil, and rosemary. Drizzle the carrots with honey and chili flakes (if using) and toss to coast. Bake for 20-25 minutes, until the vegetables are tender.
3.
Thinly slice half of the orange into wheels.
4.
While the vegetables bake, season the salmon with oil, garlic, honey, salt, pepper, and the juice of the remaining half of orange. Add half of the orange slices to the base of the baking dish and top with the salmon, then layer on the remaining orange slices. Nestle a sprig of rosemary on both sides of the salmon. Bake for 10-15 minutes, until the salmon is cooked through.
Nutrition Information
Protein
42.1g
per serving
Sodium
206.1mg
per serving