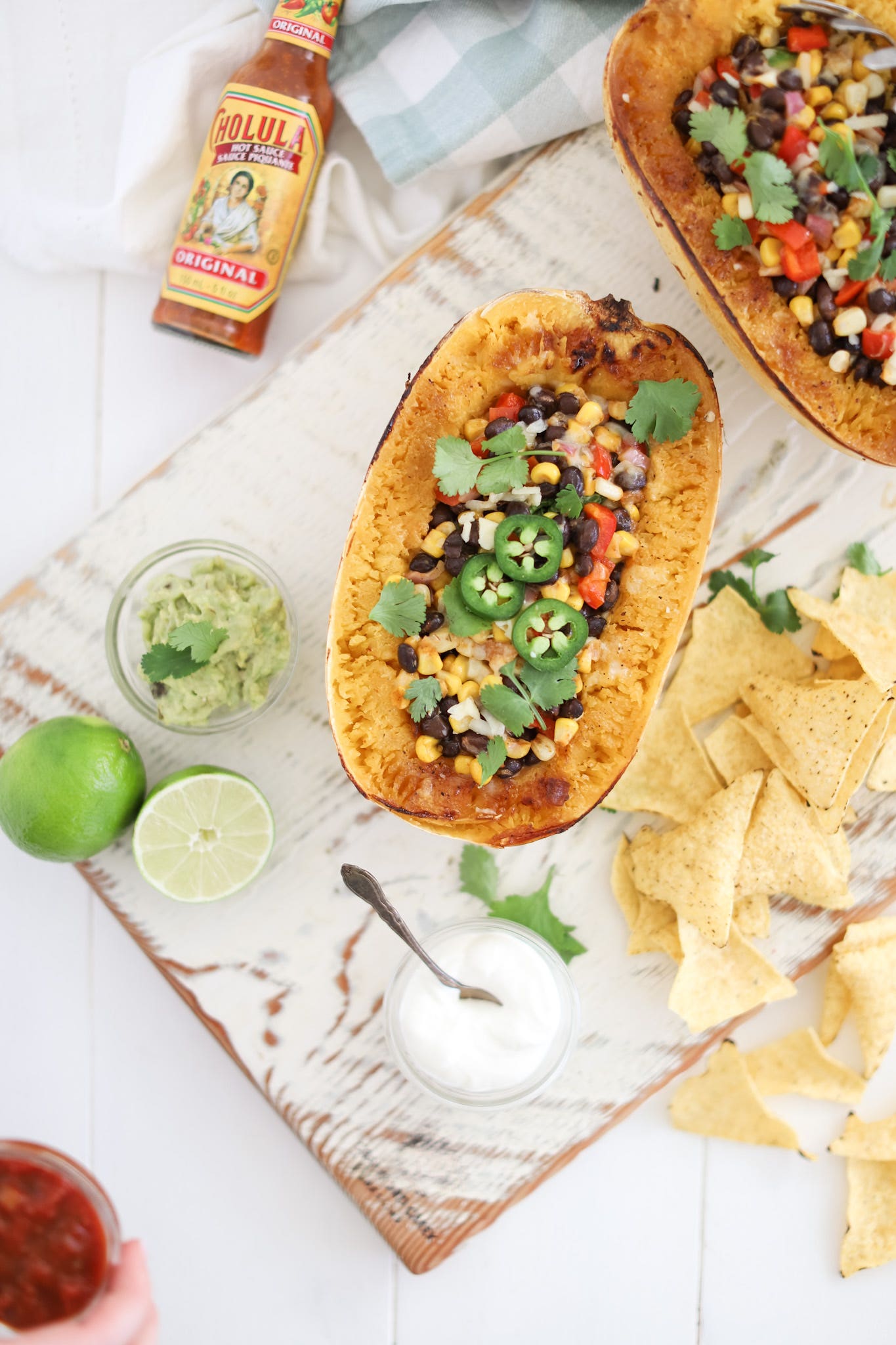 dinner
Burrito Spaghetti Squash Boats
A lighter take on a burrito, these veggie-packed Burrito Spaghetti Squash Boats are full of fresh Tex Mex flavours. They are simple to make and fun to eat: you'll be smooth sailing right through dinner time! You can substitute (or add) cooked ground chicken, beef, or veggie ground for the black beans to use in the filling if preferred.
Start your free trial to view this recipe.
You'll get access to our full library of dietitian made meals.
Start Free Trial
INGREDIENTS
For the Spaghetti Squash:

1

spaghetti squash(es), cut in half length ways & seeds removed

For the Filling:

0.5

- 398 mL can black beans, drained & rinsed

0.125

Cup

red onion(s), diced

0.5

sweet bell pepper(s), diced

1.5

Teaspoon

taco seasoning (or make your own)

View

Salt and pepper, to taste

0.5

Cup

shredded Monterey jack cheese

1

Tablespoon

cilantro (optional), roughly chopped, to garnish

0.5

avocado(s) (optional), to garnish

0.5

jalapeño(s) (optional), sliced to garnish
Plant-based option:
Use a plant-based shredded cheese.
Dairy-free option:
Use a plant-based shredded cheese.
INSTRUCTIONS
1.
Preheat oven to 400 F. Cut the squash(es) in half, and season with the oil and salt. Place cut side down on a baking sheet. Roast for around 40 minutes until the squash is tender.
2.
While spaghetti squash cooks, make the filling. Add the oil to a frying pan over medium heat. When the oil is hot, add the black beans, corn, red onion, and bell pepper and saute for around 5 minutes until the onions and peppers are soft. Stir in the taco seasoning and lime juice and season with salt to taste. Remove from the heat.
3.
When done, remove the spaghetti squash from the oven and turn over. Turn the oven to broil. Using a fork, lightly pull the squash from the sides of the skin, keeping the skin intact. Add the filling mixture into the squash and lightly toss together with the spaghetti squash. Sprinkle with the cheese and broil for 2-5 minutes or until the cheese melts.
4.
Serve with the cilantro, avocado and jalapeño (if desired) and enjoy!
Nutrition Information
Protein
16.3g
per serving
Sodium
948.6mg
per serving