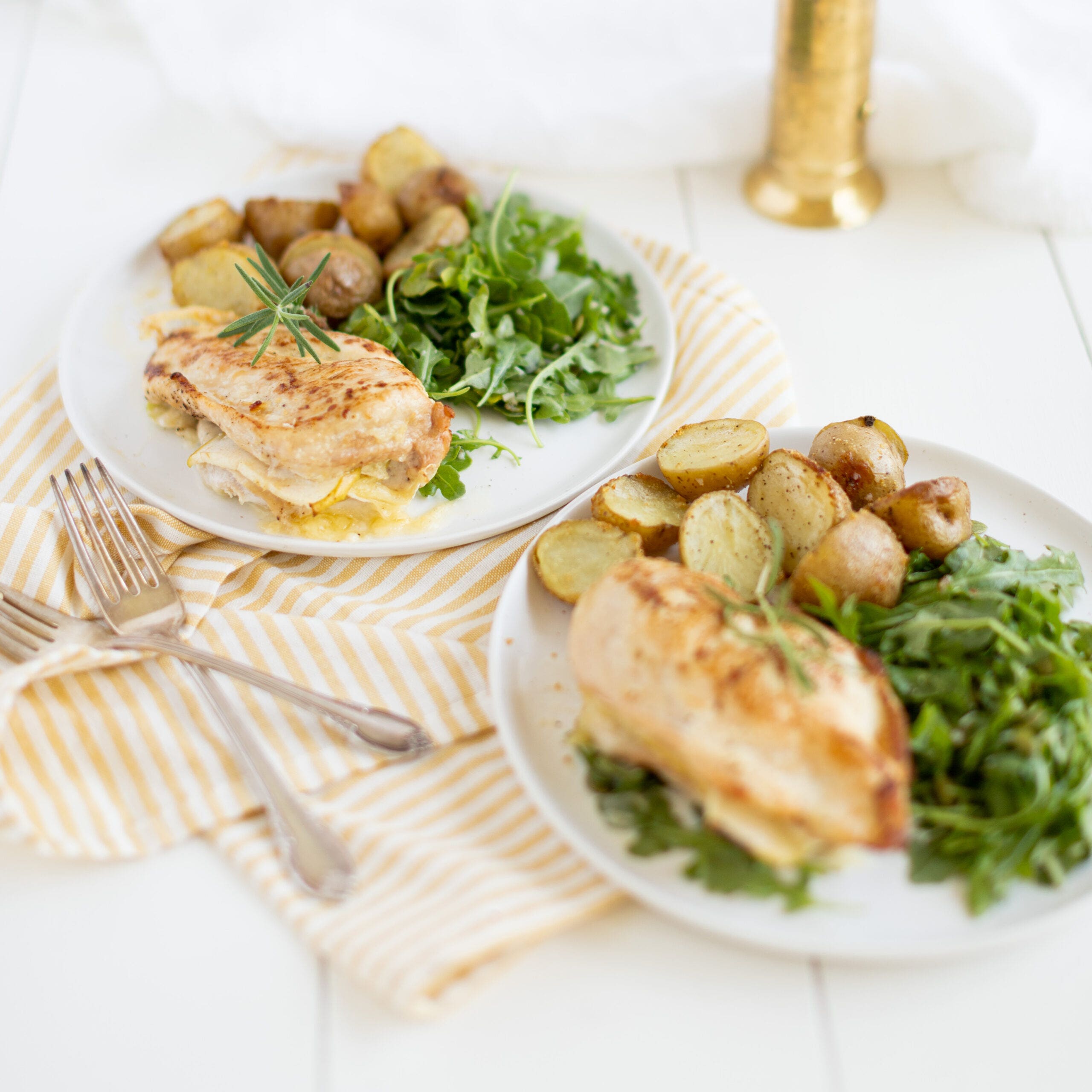 dinner
Apple & Brie Stuffed Chicken
This Apple and Brie Stuffed Chicken looks, sounds, and tastes fancy but is simple and easy to make. Roasted potatoes get paired with juicy seared chicken breast and served with a simple side salad. Any type of apple will work in this recipe but we recommend Gala or Green Apples as they hold their shape when cooked! You can use fresh or dried rosemary.
Start your free trial to view this recipe.
You'll get access to our full library of dietitian made meals.
Start Free Trial
INGREDIENTS
For the Potatoes

0.5

lbs

baby potatoes, cut in half

0.5

Teaspoon

garlic powder

0.5

Teaspoon

onion powder

0.125

Teaspoon

dried rosemary

For the Chicken

2

boneless skinless chicken breast(s)

0.25

Teaspoon

garlic powder

0.25

Teaspoon

onion powder

Salt & pepper, to taste

For the Salad

2

Tablespoon

grated parmesan

2

Tablespoon

pumpkin seeds
Plant-Based Option
See the recipe bank for plant-based dinner options.
INSTRUCTIONS
1.
Preheat oven to 400 F and line a baking sheet with parchment paper. Place the potatoes in a medium bowl, and toss with the oil, garlic powder, onion powder, and rosemary. Season with salt and pepper. Spread the potatoes on the baking sheet and place the baking sheet in the oven.
2.
While the potatoes cook, butterfly each chicken breast by cutting it in half lengthways ¾ of the way through (not all the way) to create a pocket. Open up the chicken breast and season all sides of each breast with onion powder, garlic powder, salt and pepper.
3.
Stuff each breast with the sliced apples and brie. Secure closed with 1-2 toothpicks at the seam if needed.
4.
In a medium frying pan over medium-high heat, add the oil and sear the chicken until golden brown on each side using tongs to flip it. Place the chicken on the same pan as the potatoes in the oven (toss the potatoes at this time), and bake until the chicken reaches an internal temperature of 165 F, around 20-25 minutes depending on the size of the chicken breast.
5.
While the chicken bakes, toss together the arugula salad ingredients and divide into bowls. Serve the chicken with the potatoes and arugula salad.
Nutrition Information
Protein
49.6g
per serving
Sodium
489.7mg
per serving